July 23, 2015 5:01 pm Inside Dotsignal News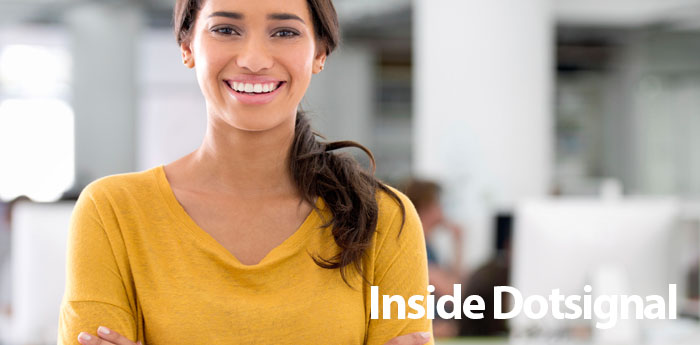 DOTSIGNAL'S PREMIERE FRONT DESK MOBILE TECHNOLOGY LAUNCHES NEW UPDATES
The ever-popular Front Desk technology provides the real estate community with even more efficient and effective tools
(Ann Arbor, MI) – Dotsignal, the real estate industry's leading mobile technology provider, launched a series of updates to its innovative and revolutionary Front Desk product. Front Desk is the first cloud-based phone system developed exclusively for the real estate industry.
Dotsignal's Front Desk platform is designed to ensure that no lead or listing opportunity goes unanswered. Front Desk provides today's consumers with accurate property information, in real time, using mobile phone technology. This results in higher lead conversion ratios and closed transactions for real estate agents. Front Desk technology can eliminate telecommunications hardware in the brokerage office, reducing overhead, while providing a seamless experience for the consumer. All of this can be replicated regardless of how many agents or listings the brokerage supports.
Expanding on Front Desk's integrated voice recognition system, consumers will now have enhanced search capabilities, English and Spanish support, text alerts and GPS functionality.  Real estate agents will also see enhancements that will further aid in developing leads, conversions and, most importantly, sales.
"Our newly launched Front Desk features are a result of clients' needs to overcome bulky, inefficient, outdated phone systems," said Matt Simons, CEO at Dotsignal. "We are delivering a first-of-its-kind, automated, cloud- based system which streamlines consistent consumer messaging and on-demand systems that work for our clients 24/7."
Front Desk combines cloud computing, phone systems and property data to create a customized, automated experience for the consumer all while freeing up brokerage overhead. The technology can be used to capture leads from agent/broker marketing materials, online listing data and yard signs. Most importantly, it can replace outdated Private Branch Exchange (PBX) phone systems and costly after-hours call routing or reception services.
About Dotsignal:
Dotsignal has been a global provider of mobile marketing and communication services for the broader real estate industry since 2007. The Dotsignal software platform helps real estate organizations communicate with their clients, prospects and agents in an increasing mobile world. Dotsignal is trusted by many of the world's most respected brands in real estate to implement mobile as an integral part of the company's technology footprint. From real estate franchises and brokerages, lenders, MLSs and real estate associations, more organizations choose Dotsignal to power their mobile initiatives. For more information, visit our website or Linkedin page.